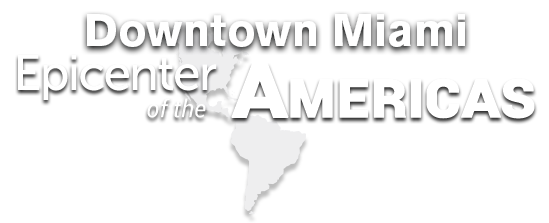 Epicenter of the Americas
Miami is in the midst of an urban renaissance. Downtown Miami is driving growth with new developments of all types; developers added condos, apartments, hotels, offices, and retail centers this year with more to come. Our skyline keeps changing, providing a newly imagined backdrop for this emerging global city and we at the Miami Downtown Development Authority are here to help you get the most out of your Downtown experience, whether you are here for a few nights or a lifetime.
Doing Business in Downtown Miami
Downtown Miami connects businesses to the world like few cities can. A thriving economy, strong business sectors, instant connectivity, extensive social and cultural offerings, and an active and vibrant residential community come together to form our global cosmopolitan city. Companies strategically choose Downtown Miami to be a part of a global business center … a tropical waterfront paradise where worlds meet, entrepreneurs gather, and the Americas are centered. At the Miami Downtown Development Authority, we are ready to help you find your place in our thriving city, expand upon what you're already doing, and better understand how the city is shaping up in the foreseeable future.
Living in Downtown Miami
Downtown Miami is an electrifying place for urban dwellers to live, work, and play. Downtown offers extensive living options for those who are looking for a place to buy or to rent in a clean, safe, attractive, and welcoming world class city. Whether you are a current resident or are looking to become one, we want to help keep you en vogue with everything that's happening from the arts and food scenes to the ins and outs of major projects transforming Downtown Miami.
Visiting Downtown Miami
Business or pleasure, no matter the reason for your visit you'll find a distinctive experience in Downtown Miami. From iconic architectural and artistic hotspots to legendary events that people travel from all over the world to be a part of, we're here to help you see and do everything on your itinerary and maybe even discover something you weren't expecting.
Mercedes-Benz Corporate Run
The 2019 Mercedes-Benz Corporate Run presented by Turkish Airlines, a 5K (3.1 mile) Run Walk, will once again wind its way through the streets of downtown Miami. With over 26,590 participants from more than 870 companies expected, this year's run is stacking up to be another monumental event. Known as "Florida's Largest Office Party", the event attracts employees of businesses, corporations, government agencies, financial institutions and non-profits. Registration is closed, but you can still come and cheer on the runners starting at Bayfront Park.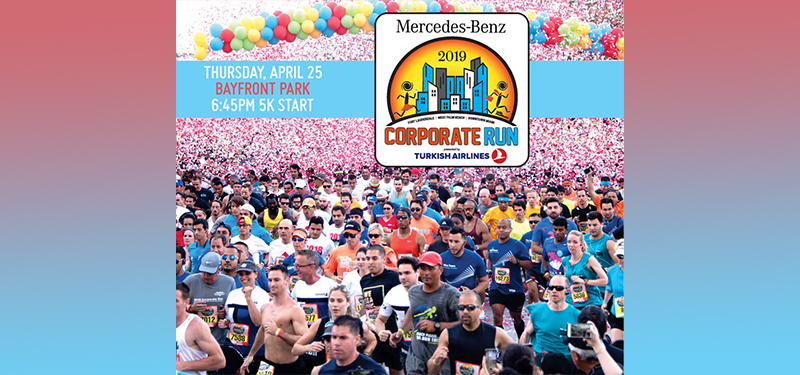 MCAD Walking Tour
Tours begin with a brief introductory discussion at the Miami Center for Architecture & Design and covers a three+ block area in the core of the Central Business District. Whether you are an architect or just love architecture, this tour is for you!
ArtsLaunch 2019
ArtsLaunch is the biggest free community event in Miami that includes the performing arts and other arts disciplines. This open house is the annual kick-off to Miami's art season!
FOR ARTS ORGANIZATIONS:

THE MIAMI
DDA COMMUNITY ARTS VILLAGE
Local arts and cultural organizations looking to exhibit their work and 2019-2020 seasons are invited to apply to the Miami DDA Community Arts Village at ArtsLaunch 2019 by no later than May 1. It's free to participate. To submit your application and for more information, please click here.

FREE Day at MOAD
MOAD is pleased to offer free admission from 1:00 to 6:00 PM on the last Sunday of every month. On this day, MOAD also provides a FREE FAMILY PROGRAM from 2:00 to 4:00 PM. This hands-on educational activity designed with the whole family in mind features artist-led workshops and other activities sure to be fun for everyone!