Neighborhood Ambassadors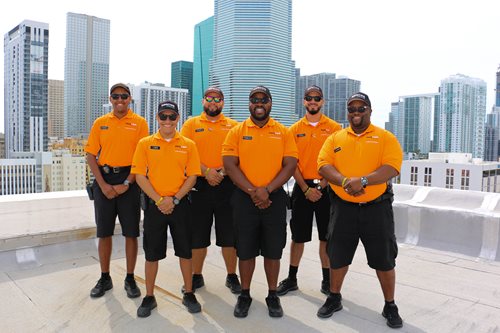 We want to make sure that Downtown Miami is welcoming and memorable to our visitors and residents. That's why our team of Ambassadors are available 7-days a week.
Wondering where to get a passport, find a business, restaurant or event, a friendly DWNTWN Ambassador wearing a bright orange shirt and DWNTWN baseball cap will be nearby to help answer those questions. Ambassadors are trained to provide residents, tourists, employees and business owners with a variety of information and assistance.
The DWNTWN Miami Ambassadors work cooperatively as additional eyes and ears for the City of Miami Police Department, maintaining a professional relationship with all local law enforcement, code compliance, and other city entities. The goal of the program is to address issues that affect the quality of life in Downtown and to strive to make Downtown Miami one of the most livable cities in the country.
The DWNTWN Miami Ambassadors are trained to provide residents, tourists, employees and business owners with the following services throughout Downtown:
Directions / Way-Finding / Parking information
Providing "safe walk" services
Report crime, code compliance violations, solid waste and other concerns to appropriate agencies
Visiting downtown business owners and managers to share info and report concerns
Respond to calls concerning specific incidents (suspicious persons, tourists with special needs, graffiti, panhandling, litter) and alerting other responders