Making Downtown Even More Beautiful
Although Downtown Miami is already considered a tropical paradise, we strive to bring even more natural charm. That's why we are working closely with the city, county and various departments to constantly enhance Downtown. We also have teams committed to day-to-day improvements too.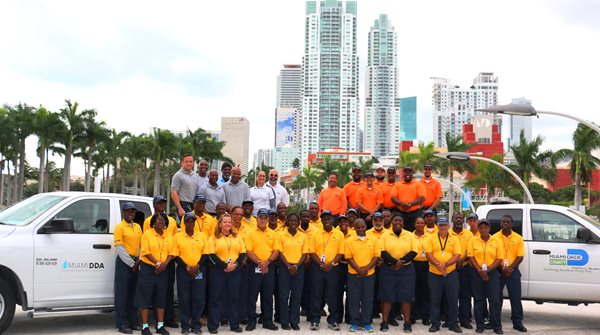 Downtown Enhancement Team
The Miami DDA partners with Camillus House to provide economically disadvantaged and formerly homeless individuals opportunities for employment. They are trained to reenter the workforce through the Downtown Enhancement Team (DET) which, dressed in bright yellow uniforms, keeps Downtown Miami looking beautiful with:
Street sweeping
Litter pick up
Graffiti removal
Sidewalk power-washing
Landscape installation and maintenance
Neighborhood Enhancement Action Team
Our local county, Miami-Dade, is fully committed to maintaining and improving our many transportation gateways, corridors and connections. The Neighborhood Enhancement Action Team (NEAT) focuses their efforts on landscaping by planting, tree trimming, pruning and other maintenance activities.