6 – South Corridor (South Dade Transitway)
Projected Timeline:   


Projected Schedule:
6 – South Corridor Map: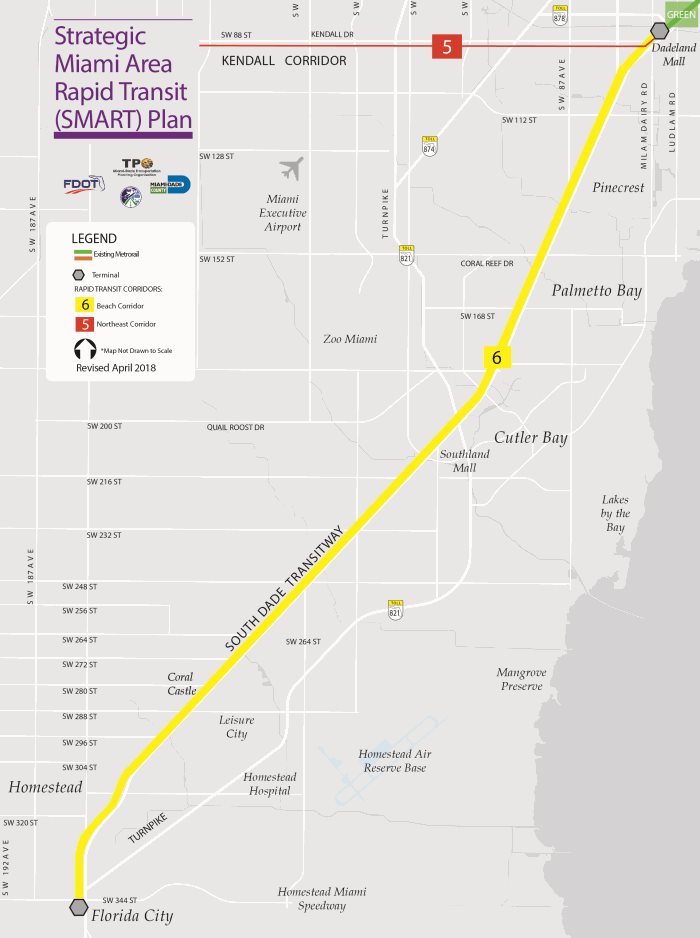 Link: https://www.miamidade.gov/transit/smart-plan-south-dade-transit-way-corridor.asp
Owner: PD&E by Miami-Dade County Transportation and Public Works (DTPW) and Land Use & Visioning by Miami-Dade TPO
Project Contacts: Charesse Chester, DTPW Public Information Officer, (305) 944-7564, SMARTSouth@miamidade.gov
Project Description: Implementation of a rapid transit corridor along South Dade Transitway from SW 344th Street on the south to the Dadeland South Metrorail station for a distance of approximately 20 miles.
Project Goals: This study will evaluate the implementation of a cost-effective, rapid transit system and infrastructure improvements along the Transitway as part of an overall interconnected rapid transit network. A focus on multimodal improvements to accommodate rapid transit service will be determined through an evaluation of transit options including mode, alignment, station locations and service frequency. This corridor is also critical in terms of hurricane evacuation and as a post-disaster recovery route.
Project Benefits:
Connects South Dade Transitway Corridor to Florida City
Fastest Population Growth in the County
Within 2-mile radius: 326,000 residents and 87,000 jobs
Possible Modes:
Bus Rapid Transit (BRT)
Light Rail Transit (LRT)
Heavy Rail Transit (HRT)
Metrorail at-grade (powered by overhead lines), on exclusive lanes.