Revitalizing Community Spaces & Streets
Miami has long been a place where art and business thrive side by side. That is going to be even truer in the coming years as a number of initiatives will address both the aesthetic and functional needs of Downtown Miami.
Urban Placemaking Projects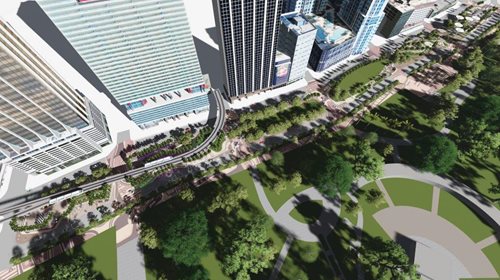 Biscayne Green
The proposed vision of Biscayne Green calls for the redesign of Biscayne Boulevard into Miami's grand pedestrian promenade, similar to that of San Francisco's Embarcadero, Madrid's Paseo del Prado, and Barcelona's Las Ramblas. In 2011, the Miami DDA completed a comprehensive streetscape analysis for a complete redesign of six (6) blocks of Biscayne Boulevard. The preferred concept includes a reduction of vehicular lanes, on-street parking, wider sidewalks, and a dedicated bicycle facility.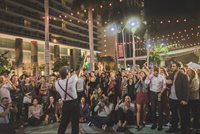 In January of this year, the Miami DDA, with support from the Knight Foundation created a one-month temporary installation within 3 pods in the median of Biscayne Boulevard; reimagining the boulevard and creating a new active public space for the enjoyment of Downtown Miami residents and visitors. The installation provided both recreational and passive amenities, fun and interactive elements, as well as events for guests of all ages, both day and night, allowing people to gather and connect. The project was a successful first attempt to showcase the potential of a redesigned Biscayne Boulevard into a world-class pedestrian promenade and it has helped us get a sneak peek into the future of Downtown Miami and build the necessary support for the long term vision.
Following the success of the temporary public space intervention, the Florida Department of Transportation (FDOT) awarded the Miami DDA a grant to conduct a lane elimination analysis, which is the next step tomake this idea a reality. Beyond the lane elimination analysis, future steps include securing funding options to advance design development and finance future construction.
For more information on this project, click here.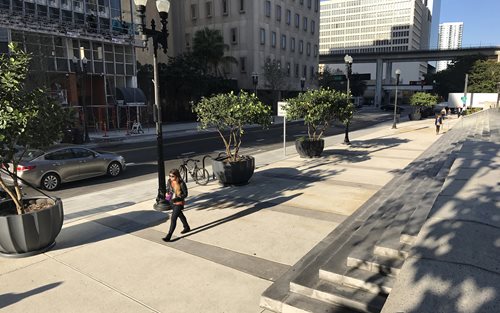 Flagler Street Reconstruction & Beautification
Flagler Street has long been known as the City of Miami's iconic main street and after 120 years, the Miami DDA in partnership with local property owners and the City of Miami have embarked on a beautification project to help this street reclaim its proud and distinctive heritage as a vibrant, walkable street, home to Miami's historic shopping district.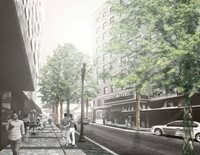 To create a truly pedestrian oriented envirionment, work is currently underway to restructure the roadway, fix drainage issues, upgrade underground utilities and install new sidewalks, shade trees, lighting and pedestrain crossings and more. Also, railroad crossing arms will be installed to provide the option of closing down the street to vehicular traffic for festivals and outdoor markets.
This effort will not only establish Flagler Street as a primary connection between the Miami River and Biscayne Bay, but also provides an improved environment for residents and visitors alike to experience and explore a variety of stores and restaurants, and rediscover Flagler Stree all over again.
For more information on this project including updates on the construction progress, click here.