Celebrating and Enhancing Our Iconic Tropical Waterfront
From opening scenes of movies and television shows to visitors and residents who share their inspired views of the city, the Downtown Miami waterfront is known throughout the world. That's why we're helping to bring even greater use and regard to our waterfront.
To learn how you can enjoy the waterfront today, click here.
To learn what the Miami DDA is doing to enhance this unique asset, scroll down.

2017 Baywalk Activation Grants
Through the Baywalk Activation mini grant program, the Miami DDA is investing $25,000 to activate and energize the Baywalk with YOUR ideas.  Any individual or organization can apply for grants from $500 to $5,000 and any site along the Baywalk is open to your proposal.  We will work with you to make your event a reality. So get started with your activation by picking a site and telling us your idea here: www.miamidda.com/Activate-the-Baywalk.  All entries are due by Friday, November 3, 2017.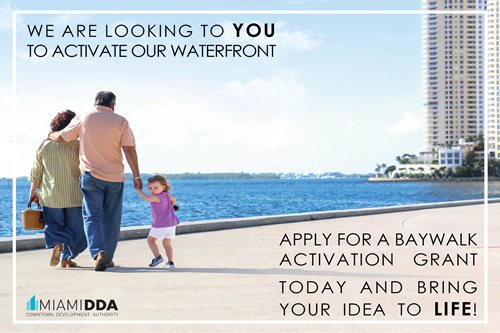 Baywalk & Riverwalk
The Miami Baywalk & Riverwalk are publicly accessible pedestrian corridors for walking and biking along Downtown Miami's two beautiful waterfronts: Biscayne Bay and the Miami River. The Miami DDA is working to develop a comprehensive strategy to address the existing access and connectivity challenges along the Bay and the River, and rethink how these 5-mile pedestrian corridors can become  world class waterfront experiences. Our goal is to provide a one-of-a-kind amenity to all who live, work and play in Downtown Miami.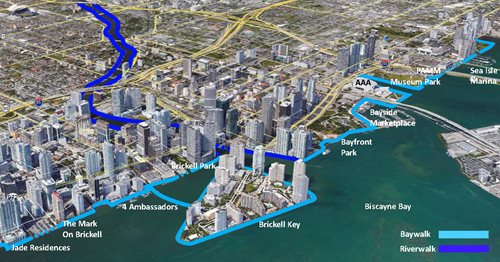 Waterborne Transportation
Rather than solely relying on trains to efficiently connect people to destinations, plans are slated to also leverage the bay to connect people to major waterfront destinations via water taxis and/or ferries. Currently the Miami DDA is working with all relevant agencies to increase and introduce water-taxi routes/stops along the Miami River and Biscayne Bay.
Daytime Docking
With so much development happening along the water including restaurants, museums, parks and residential buildings the Miami DDA is working to connect boating enthusiasts to these ever growing waterfront destinations. Plans are underway to enable daytime dockage along Biscayne Bay and the Miami River and currently, we are working with all necessary agencies to increase and introduce available boat dockage for both motorized vessels and non-motorized craft along the Miami River and Biscayne Bay.