Educational Resources
In today's knowledge based economy, quality schools and universities are essential components to a thriving business environment. With a wealth of educational offerings, Downtown Miami has become a regional center for learning and professional development. Top schools realize Downtown Miami is the best place to establish international centers of learning to service our diverse and growing population.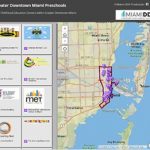 Early Education in Greater Downtown Miami
Choosing how and where to build a child's educational foundation is one of the most important and difficult choices parents and guardians face. To make the selection process easier, the Miami DDA created an interactive map of early childhood centers. The map showcases the location of preschools, daycares and childcare facilities located within Greater Downtown Miami.
Click here to use this map.
K-12 Education in Greater Downtown Miami
Beyond early education, Downtown is part of the nation's 4th largest school district, the Miami-Dade County Public Schools (MDCPS).
Please click here for access to the MDCPS database that can provide you with information about the public schools that your address is assigned to, as well as all charter schools located in the area.
Listed below are the current K-12 educational assets in Greater Downtown Miami.
Downtown Miami Charter School
305 NW 3 Ave
Miami 33128
305.579.2112
www.downtowncharter.org

Enieda M. Hartner Elementary School

401 NW 29 St

Miami 33127

305.573.8181

iPrep Academy
1500 Biscayne Blvd
Miami 33132
305.995.1929
iprep.dadeschools.net

Miami Arts Center School Wynwood

95 NW 23 St

Miami 33127

305.763.6257

Key Point Academy
609 Brickell Ave
Miami 33131
305.440.5802
www.keypointschools.com

Paul Laurence Dunbar Elementary School

505 NW 20th St

Miami 33127

305.573.2344

Law Enforcement Officers Memorial Senior High
300 NW 2 Ave
Miami 33128
305.371.0400
schoolofjustice.dadeschools.net

CARE Elementary School

2025 NW 1 Ave

Miami 33127

305.572.2072

Miami Children's Museum Charter School
980 MacArthur Cswy
Miami 33132
305.373.5437
www.miamichildrensmuseum.org

Phillis Wheatley Elementary School

1801 NW 1 Pl

Miami 33136

305.573.2638

New World School of the Arts
25 NE 2 St
Miami 33132
305.237.3135
nwsa.mdc.edu

Primary Learning Center

1500 Biscayne Blvd

Miami 33132

305.523.8390

School for Advanced Studies – Wolfson Campus
25 NE 2 St
Miami 33132
305.237.7270
www.mdc.edu/main/sas

Theodore R. & Thelma A. Gibson Charter School

1682 NW 4 Ave

Miami, FL 33136

305.438.0895

Southside Elementary
45 SW 13 St
Miami 33130
305.371.3311
southside.dadeschools.net

Frederick Douglass Elementary School

314 NW 12 St

Miami 33136

305.371.4687

Metropolitan International School of Miami

3465 NW 2 Ave

Miami 33127

305.576.6070

ASPIRA Arts DE/CO Charter School

1 NE 19 St

Miami 33132

305.576.1512

Jose de Diego Middle School

3100 NW 5 Ave

Miami 33127

305.573.7229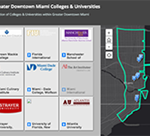 Higher Education in Downtown Miami
To keep up with the changing demands of the business market in Downtown Miami, the educational resources are keeping pace to ensure companies have the talents they need for where they are headed next.
Attending a higher education institution can open the door to various career paths and be a gateway to countless opportunities to enhance one's quality of life. This story map conveys the locations of colleges and universities located within Greater Downtown Miami.
Click here to use this map.