Flagler Street Task Force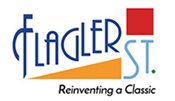 The Flagler Street Task Force includes Downtown business and property owners, major stakeholders, project designers, and City of Miami, Miami-Dade County, Miami Parking Authority and Miami DDA staff. The Task Force is a vehicle for interested parties to publically participate in overseeing the reconstruction efforts and guide the long-term process of activating and marketing Flagler Street.
Meetings are held the first Monday of the month at 9:00am in the Olympia Theater, visit our calendar for a complete schedule of Miami DDA meetings.
Committee meeting minutes are available upon request. To request meeting minutes, please contact Ivonne de la Vega, Miami DDA Board Secretary at
delaVega@miamidda.com or 305-579-6675.
For more information on the Flagler Street Task Force and the Flagler Street Revitilization Project, please visit www.flaglerstreetmiami.com