Urban Placemaking Committee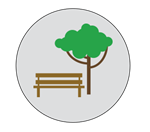 This committee guides the Miami DDA's efforts to create community spaces, improve the public realm, transform streets and make Downtown's waterfront accessible. Meetings are open to the public and held on the first Thursday of the month at 4:00pm, visit our calendar for a complete schedule of Miami DDA committee meetings.
Committee meeting minutes are available upon request. To request meeting minutes, please contact Ivonne de la Vega, Miami DDA Board Secretary at delaVega@miamidda.com or 305-579-6675.